IP2Innovate
Contrary to EU law, courts across Europe consistently fail to consider proportionality in patent cases, new data reveals
IP2Innovate calls on the European Commission to promote similar reforms to those recently enacted in Germany in all EU member states
BRUSSELS, 25 November 2021 – Between 2018 and 2020, courts in nine EU member states plus the UK and Norway, handed out injunctions automatically in 98% of patent cases in which an infringement was found, according to data sourced from Darts-ip, a Clarivate IP intelligence solution.
Of the 224 court decisions examined, where an infringement was found and a permanent injunction requested, only four – or 2% – saw a proportionality assessment. The data shows that permanent injunctions are overwhelmingly granted by courts around Europe without any consideration of proportionality as is required by EU law.
The findings follow a landmark vote in Germany in June to move Europe's busiest national patent jurisdiction away from automatic injunctions. The reformed German patent law calls on courts to make a proportionality assessment, and to consider the interests of third parties when doing so.


Automatic injunctions result in an imbalanced patent system which deters productive      firms and allows unscrupulous patent holders to extract disproportionately high settlements based on the threat of harm that would result from an injunction halting production and sales, rather than the value contributed by the patent.
The principle of proportionality is enshrined in all EU laws.  In the case of patents, proportionality protects against unreasonable demands from patent owners and requires that any remedy be aligned with the value contributed by the patent.
The issuance of an injunction without consideration of proportionality is a particularly powerful weapon when wielded by Patent Assertion Entities (PAEs) who do not make any product and simply seek monetary settlements. PAEs can use the threat of an automatic injunction and the damage that would result to seek settlements far greater than the value contributed by the invention or any actual harm resulting from the infringement.
"It is clear that automatic injunctions in patent infringement cases are the norm in patent courts across the European continent," said Patrick Oliver, executive director of IP2Innovate, a trade group pushing for balance in Europe's patent systems.
The data reveals that in France, Italy and the Netherlands – after Germany, three of the largest patent jurisdictions in Europe – there were no proportionality assessments carried out at all during the period under review.
"These countries, and many more, are consistently failing to apply an important principle of EU patent law that requires that remedies be proportionate," Mr Oliver said, adding: "Now that Germany is adjusting its system it's time the European Commission took action to encourage others to follow suit."
This action could take the form of a set of guidelines to help member states correctly interpret EU laws, and in particular the Intellectual Property Rights Enforcement Directive (IPRED from 2004).
"We will of course be raising the issue in the member states highlighted in the study too," Mr Oliver added.
Media contact:
Paul Meller
+32 497 322 966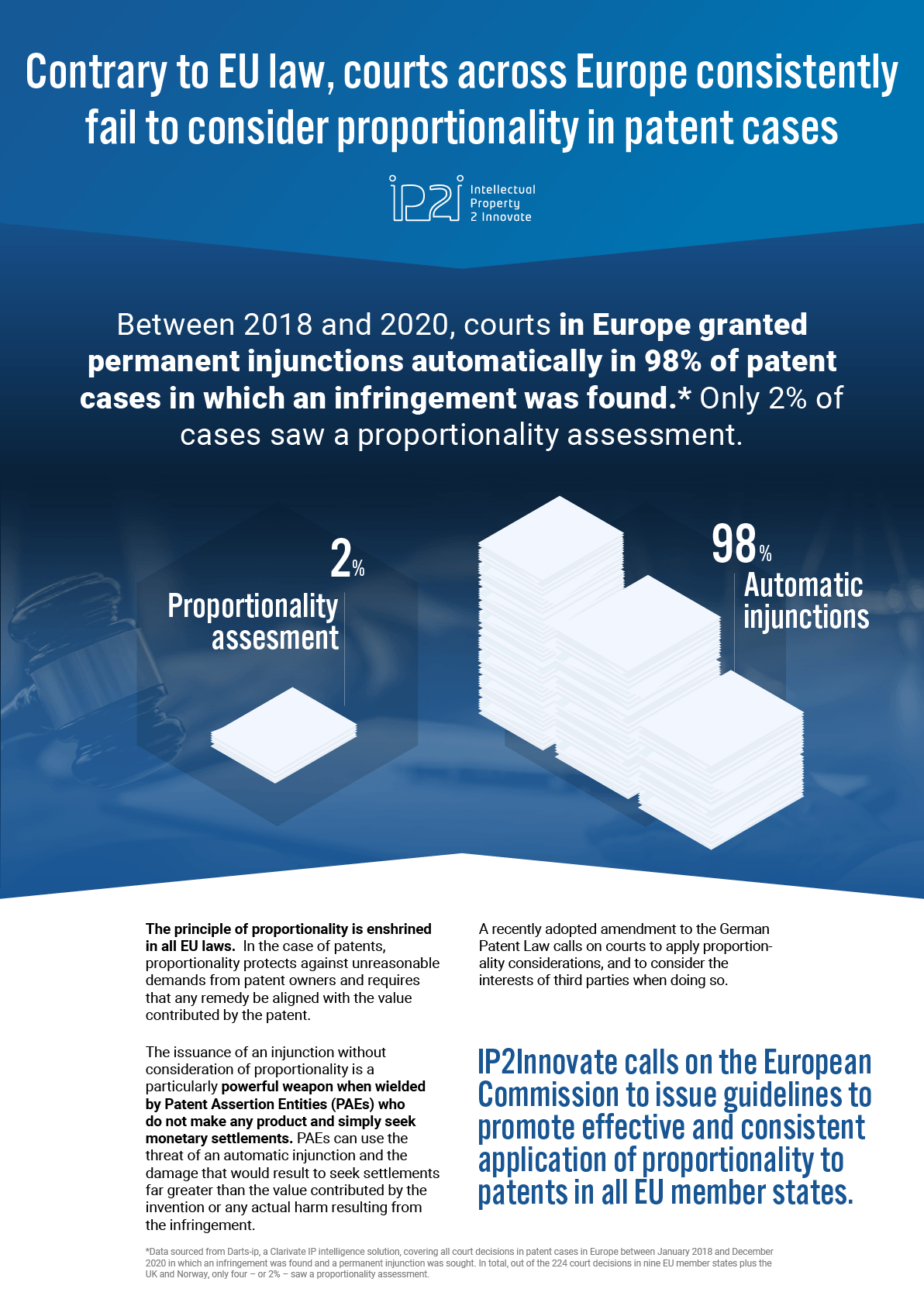 Other press releases